Subscribe to my newsletter
ON A REMOTE PACIFIC ISLAND, SOMETHING NEW HAS BEEN BIRTHED. SOMETHING NOT OF THIS WORLD…
Holly Truong is a field biologist on the verge of an experimental breakthrough on swarm intelligence. But when she receives news that her estranged mother has been found dead in faraway Melanesia, she is compelled to put everything on the back burner and go in search of answers.
Waiting for her there is an experiment of a completely unexpected kind: a recreation of alien life, made possible by a secret SETI program called Metis Eye. Earth is now host to a bizarre new life form — one utterly unlike anything the planet has seen in its four and a half billion years of existence.
However, as shocking as the revelation is, a deeper, far more terrifying secret lurks in the heart of the jungle. A secret that if left uncovered could mean the end of civilization itself.
Nature, red in tooth and claw, has returned to claim its dominion, and Holly is about to find out that she is the only one standing in its way.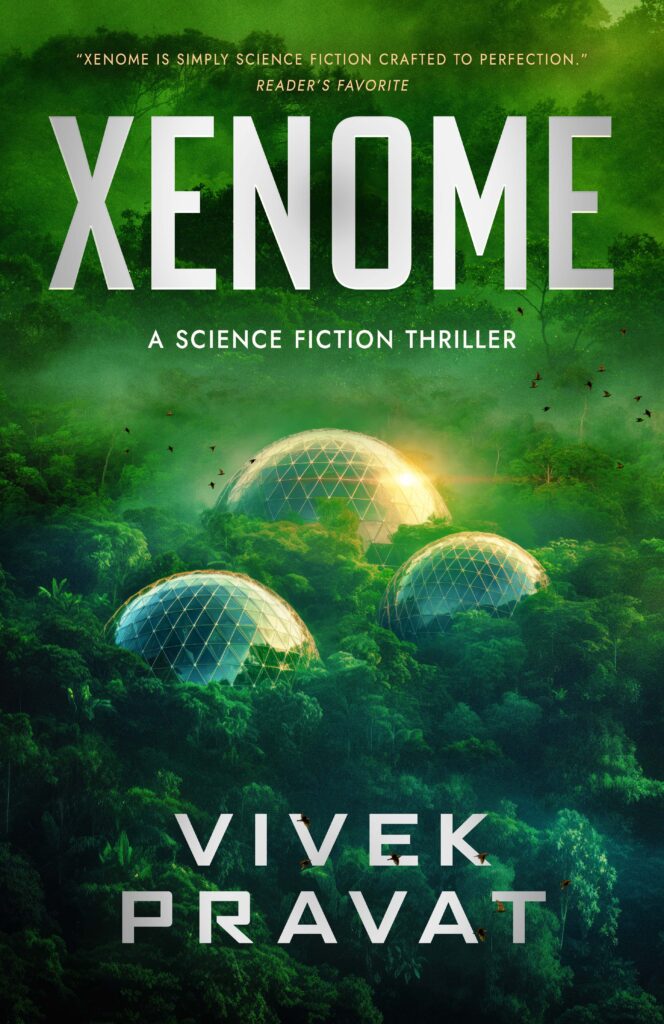 Prologue
A thunderstorm had just passed, leaving a sultry, dripping stillness in the lower reaches of the rainforest. Soon, the temporary calm would be a thing of the past as the myriad occupants of the jungle returned to their activities, but for now the silence lay heavy, pierced only by the sounds of someone crashing through the thick undergrowth. Quick gasps of labored breathing accompanied the noise of twigs snapping and shrubs being pushed aside.
A man ran through the vegetation. His step was nimble, suggesting expertise in navigating the difficult terrain, but there was no hiding the sheer exhaustion he felt in every fiber of his pumping muscles. It was evident he had been running for a while. Maybe all day—he had no way of telling. Time had become a dimensionless abstraction, with only the white mark on his hand where his watch used to be reminding him that there were things such as hours and minutes and that, for some reason, they were in dwindling supply.
All that mattered was that he get out of the jungle at any cost.
"It's Ricky," he gasped for the umpteenth time, holding on to the syllables like a drowning man a lifeline. "My name is Ricky." Ricky… something. That fall in the stream earlier had been a godsend, with the cold water bringing him back from his fugue state, but much of his mind remained frustratingly blank.
It's a start. Give it time.
Not everything was shrouded in a fog; glimpses from what he assumed was a recent altercation flashed in his memory as he ran. A battle. He wasn't alone; there were others. All dead now, he felt strangely confident. He was the sole survivor.
But for how long?
Fatigue finally took its toll, making him stop and slump against a tree, his legs shaking under him. As he waited for his breath to recover, he gave himself a once-over out of long-inculcated habit. He was mostly in one piece: there were cuts and bruises aplenty, but none that hampered function. He wasn't all that hungry, no more than the last time he'd been lucid. Just terribly thirsty. So much so that it hurt when he swallowed. And yet, the thought of water seemed to stoke some nameless fear in him—a fear that for now lay deeply buried.
Fear of something out there? If only his rifle were still with him. He distinctively recalled having it the previous night: he had pressed it tight against his body as he sat curled up in a hollow somewhere, scared and alone and muttering to himself while the jungle sang to him.
He blinked. Yes, the jungle had sung to him with the sound of flutes.
You're tripping. Imagining things. Jungles don't sing.
Before he could examine the absurdity of it any further, his attention was captured by a most unexpected sight: golden-yellow beams of sunlight winking at him through gaps in the tree trunks ahead to his right. On its heels blew in a salty tang he recognized beyond doubt—the sea. He had reached the end of the jungle.
Not bad, Ricky Dunn, not bad at all.
A big grin crossed his face at the double fortune. Then, as some crucial synapse made a connection and fired off dormant parts of his brain, it slowly started coming back.  His last name was Dunn. Middle name Walter. Born in Des Moines, Iowa. He still lived there, with his wife Gail, and his son, two-year-old Jeremy. There was a baby girl on the way—they hadn't decided on the name yet. And he was an army veteran: the Rangers, 3rd Battalion. Now he worked in the private sector. As to his present whereabouts, he was on an island, somewhere in its northern half.
Doing what?
No matter. It will come in time.
He breathed in greedily, filling his lungs with the wholesome sea breeze. But as he did so, he became aware of a new smell—a sharp, coppery scent that didn't quite belong among the dank notes of the forest. The odor wasn't being carried by the breeze either; its source was somewhere near.
Very near.
Dunn went rigid, instinctively crouching to present a smaller target. Enemy combatant? No, this felt like something else. Something far worse.
He began sprinting again. So close now. Expending the last ounces of his strength, he charged through the final stretch of trees into the open. And there he halted because there was nowhere else to go. About fifty yards ahead, the land dropped off into the vista of a wide, empty ocean. The jungle had terminated in a cliff.
To his right, the ledge narrowed into a sharp promontory. The setting sun hung low over it, indicating he'd spent all day trudging through the forest. But it was not true about there being nowhere to go. As his dark-accustomed eyes adjusted to the light, he saw that the slope on his left was navigable. It led to a muddy beach about two klicks southwest.
Dunn nodded gratefully at the welcome sight. He probably had an hour before it got completely dark. He could spend the night at the beach and, in the morning, hike and swim along the coast down south.
There was a settlement down south.
The idea, however, instead of giving him hope, filled him with that same vague dread. His mind kept returning to his rifle. He needed it—somehow, everything depended on it.
But wait. Wasn't he forgetting something?
As if compelled by its own volition, his right hand traveled to his chest, where it felt something hard nestled beneath the shirt.
My pistol!  I didn't lose it after all!
Feeling giddy with a renewed sense of purpose, he reached under the shirt and unclipped the holstered weapon.  A Smith & Wesson M&P. The weight on his practiced hand said it was loaded.
Just in time, he thought, as the jungle behind him rustled. He spun around, the metallic smell assailing his nostrils once again. He didn't have to search very hard to locate the source—it was standing in plain sight next to a bush, watching him watch it. The alien.
Colored beads of light moved inside its skull like fireflies doing a mating dance.
Dunn was surprised at his lack of surprise. It was as if he'd expected the creature to be there, standing on all fours and bobbing that nightmare-inducing head in discontinuous little jerks like so. The alien. Not, Jesus, what the hell is that thing? Simply, the alien.
He stared. Yup. It was this abomination that had been stalking him all night; how could he forget those crazy lights flipping on and off as it darted about in the pitch dark?
Well, you're not gonna stalk me anymore. Time to die, freak.
He racked the gun and aimed.
But his fingers didn't follow through. Maybe it was the sight of the bizarre creature that did it, but right then all his repressed memories came flooding into the forefront with the semblance of a dam bursting. A moan escaped his lips as he dropped his gun and, clutching his head, staggered back a step. He remembered every single horrible detail: his mission, that bloodbath near the camp, people losing their shit…
Most importantly, he remembered the real reason for his seeking the edge of the jungle.
All strength seemed to leave his body as he fell to his knees in the grass and laughed—peals of loud, bitter laughter that rang hollowly among the trees like a gong about to shatter. It had all been for nothing. All day he'd been running for nothing. He'd been tricked into coming here—and by his subconscious no less. Reeled in like a blind fish on a hook.
The creature slunk back into the bushes, startled by his cackling.
Not for nothing. Do what you came here to do.
Dunn wiped his eyes and picked up the gun. Right. The endgame. He backed away, taking care not to trip on the stony ground. To his relief, the creature remained where it was. He then turned and hurried to the cliff's edge; there was no telling how long this latest spell of clarity would last.
A brisk wind climbed the precipice and ruffled his sweat-matted hair as he found a seat among the rocks and looked west. Toward home. The dying sun had infused the towering cumulonimbus clouds on the horizon with every possible shade of red and violet, lending them a desolate beauty that seemed apt. Dunn allowed himself a forlorn smile. Not bad as far as last sights go.
There was no escaping the island—he saw that now. But breathing your last while lying face down in the muck of the jungle floor, and then having your body gnawed at by those… ball things was no way for a soldier to die. This way was clean. Dignified. The real reason his autopilot had brought him here.
Some sixth sense warned that the alien had stepped out from the jungle behind him. He pictured it approaching like a cat on the prowl.
Let it. I don't care. Dunn took a final look at the ocean, closed his eyes, and stuck the pistol's muzzle inside his mouth. He willed his last thoughts to be of his wife and kid, and the baby he would never see.
However, to his infinite frustration, what occupied his brain in the final milliseconds before the bullet tore through it was a solitary, nagging worry.
He was wrong about the island. He'd been wrong from the very beginning.
And now, no one would ever know.
Chapter 1